High Pulse Poker Games and Software Review
High Pulse Poker Review
High Pulse is a brand new poker-room which launched its real money tables on 15 November 2011. In this High Pulse Poker Review we want to introduce you to this innovative operator with all its special features in the wide range of games, the software and the rakeback offer.
Get the free software now and play freerolls!
Both the software, as well as the range of games offer special features that you can not find in any other poker room. An extra highlight is the bonus you get for your free registration. Just enter the Referral Code RAKEBACK50 when creating your player account and you will receive 50% rakeback from the first day. This rakeback will be paid out to your account every Sunday. Let's take a look at the games offered.
High Pulse Poker Games
All popular game types and limits are covered right from the start of the real money game. And of course you can play the popular variants of Texas Hold'em
(Limit/Pot Limit/No Limit) and Omaha (Limit/Pot Limit) as well as Omaha Hi/Lo. You can play these games as Cash Game, Sit & Go or Multi Table Tournament. The limits and the entry fees are very friendly for beginners. You can start playing with blinds of 1Cent/2Cent and play for up to 2€/4€. The Buy-Ins for tournaments starts at 11Cent up to 11€. Thus, the most important blinds for recreational as well as ambitious players are available. Additional variants of games and limits will be added step by step to the range of games.
Freerolls in general play at the poker rooms a subordinated role. Often is the offer very limited and only available for players who make a deposit or have earned a certain VIP status. This is very different at the High Pulse Poker Games, where freerolls are an important component of the entire offer of games. The freerolls make up a significant part of all tournaments and are available for registered users around the clock – a deposit is not required to win in this free competition real money. This fact we have to highlight in our High Pulse Poker Review – no other poker room has such a huge range of freerolls and registered players can take part in those at any time without any other requirements! Now, the range of games offers another special feature: the new version Bet Poker.
HiPlay freerolls without deposit and win real money!
High Pulse Bet Poker
This fresh version of the game offers you a whole new way to bet – Bet poker. How many times have you already got a very good hand but did not win anything because your opponents had no cards to play? This will not happen with the new Bet Poker, as you can bet on the cards and not against other players. Once you sit at a Bet Poker table, you see all start hands of the virtual players and can bet on each hand winning or loosing. There are three betting rounds in total: before and after the flop and after the turn. Just choose hands with good odds and place a safe bet as far as possible. You can also bet on a hand with low odds and multiply your bet with a corresponding ratio. In every round of Bet Poker you can bet on any hand with any bet or even omit one round easily if you don't like the odds offered.
High Pulse Poker Software Review
There are even more special features than Bet Poker waiting for you at this poker room. The new developed software is definitely other reason to try this operator. The very modern and unique design is the most obvious difference with previous poker rooms. Additional, there are further small innovations which make the game easier and more enjoyable for you.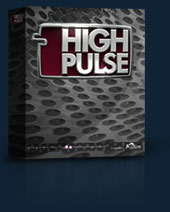 For example, in tournaments is your current position shown directly on the poker table. At the same time you can see optionally the remaining players, the chip average and the small and big stacks – you don't need any other lobby window after the tournament has started. The window itself can be displayed frameless and offers all necessary options for the automatic layout on the desktop. Besides the very cool designed and animated emotions we would like to point out in our High Pulse Poker Review the settings of your personal software. All settings, all player notes and buddy lists are saved online at High Pulse. Now you can play poker from every computer with your personal settings – once you are logged in you have access to all of your settings and player notes.
Download the new software for free!
The filter option is one of the best in the internet. You can use this option very quick and easy in the lobby and don't have to make any complicated filter settings or use extra menus. There is only one lobby window where all options are directly clickable – you can choose your table immediately. All tournaments you playing at are displayed in a separate menu, so you never again have to search through the entire tournament list to find the lobby of your current game.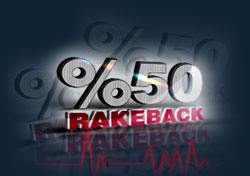 Claim the special offer for all new players.
Your innovative and unique bonus offer is waiting for you. Just enter the referral code RAKEBACK50 during your registration and start benefit from this offer from the first day. Instead of a one-time deposit bonus you get back 50% of all payed fees every time you play. This is comparable with a client card of a supermarket, you will get back 50% of everything you bought and this every Sunday. What are you waiting for? Claim this special offer now and start your triumphal procession.
Register now with the referral code RAKEBACK50 and get 50% back for life!